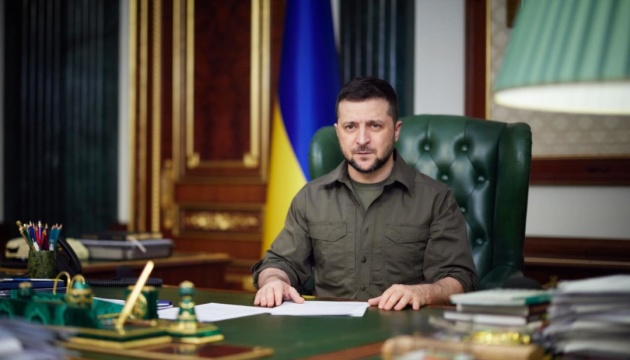 Zelensky says authorities are in contact with Mariupol defenders
Ukrainian authorities at different levels are in contact with soldiers who remain stuck in Mariupol. The defenders of the city fight the enemy which is six times more numerous than the Ukrainian troops.
Ukrainian President Volodymyr Zelensky said this in an interview with several online media, including Ukrinform.
"We are in contact with our guys who remain in the blocked factory. We are in contact with them. We speak to them on different levels every day. We support them as much as we can. But they know that they are leading a the most powerful and important missions today, and it's true. Indeed, the enemy is afraid of it because today there are six times as many Russian troops there," said Zelensky, adding that the enemy has dozens of times more equipment than the Ukrainian defenders.
The president added that "not a very large part" of Mariupol is controlled by the Ukrainian army.
According to him, there is a humanitarian crisis in the city, with a lack of food, water and no medicine.
"Nevertheless, our guys are defending heroically. We are grateful to them. Words of gratitude are certainly not enough, so some plans and negotiation processes are being worked out. To be honest, there is no trust in the Russian negotiators regarding Mariupol," Zelensky said.
He said there was an agreement on a humanitarian corridor brokered by Turkey, but which Russia refused "at some point".
Zelensky also pointed out that there were no exact statistics on the situation in Mariupol, adding that "many people have disappeared".
Earlier reports indicated that Russian aggression had caused one of the greatest humanitarian disasters in Mariupol. The invaders bombard unarmed residents and block humanitarian aid.
Mariupol Mayor Vadym Boichenko said up to 20,000 civilians had been killed in the city since the start of the full-scale Russian invasion. According to the Main Intelligence Directorate of the Ukrainian Defense Ministry, 13 Russian mobile crematoriums have been registered in Mariupol to clean the streets from the bodies of dead civilians. The invaders attempt to identify and destroy any potential witnesses to Russian atrocities.
About 120,000 civilians remain trapped in Mariupol. The invaders seize their Ukrainian passports and forcibly take them to Russia and "DPR/LPR".
Soldiers from the Azov regiment, Ukrainian marines and motorized riflemen continue to defend Mariupol.
Photo: Office of the President