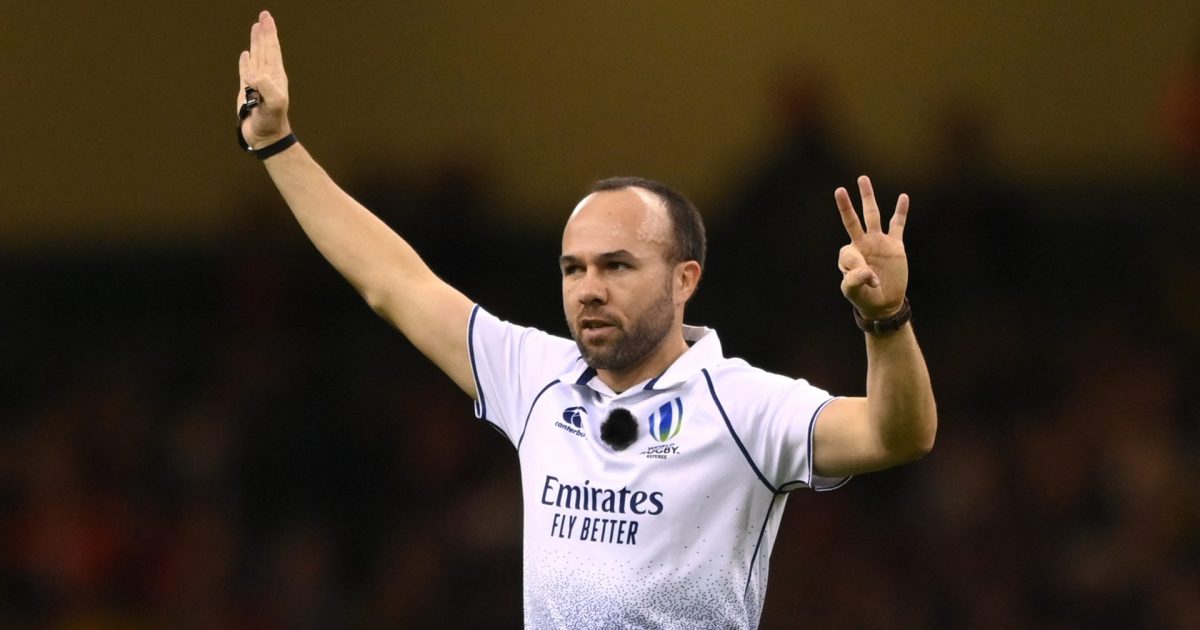 England pay 'scary' referee Adamson a contact zone compliment
England have paid tribute to Mike Adamson, the referee whose ability to properly handle this Saturday's Guinness Six Nations match at Twickenham was called into question last month following his controversial involvement in a game on Chertsey Road at The Stoop.
The Scotland official has sparked a social media storm over some of his decisions in the Heineken Champions Cup game between Harlequins and Castres, an unconvincing officiating that followed his red card earlier in January from Simon Zebo of the Munster, a decision which was overturned during a disciplinary sanction. hearing that determined the wrong player was carded.
Stephen Jones, rugby correspondent for The Sunday Times, tweeted: "The referee for Quins v Castres was alarmingly poor, Castres may not have bothered to come. It's scary that the same official, Mike Adamson, make England v Wales AND France v Italy How is that possible when Wayne Barnes only has one game?
Unloading RugbyPass with Sam Skinner | Episode 22
Former England half-back Andy Goode posted: 'Gotta feel Castres, some awful decisions went against them there', a take on the referee's performance which prompted a response from Eddie O'Sullivan , the former coach of Ireland.
"Keep in mind the shocking forward pass before the 1st Pen. People wonder why coaches are so unhappy with referees. The most frustrating part is that there are no consequences for Mike Adamson. He is promoted to the 6 Nations despite his performance.
Adamson was on the whistle in Paris on February 6 when France beat Italy and he will now double in the Six Nations by taking charge of this Saturday's England v Wales match, a game he will arrive in following a compliment at the Friday press briefing. by Richard Cockerill, the England forwards coach who knows the Scot well from his time as director of rugby at Edinburgh from 2017 until July last year.
Asked what England would be looking to do best against Wales after their first Six Nations matches this month against Scotland and Italy, Cockerill replied: "We probably thought we could have grabbed more chances in both games so far. We are still working hard on our attack and making sure we play the way we want to play and it's really accurate.
"But also the physical parts, we know that the competition at the contact zone, the set piece zone is going to be an uphill battle. Like most weeks (we focus on) a bit of everything but certainly our offensive game is really important for us but for that you have to win the win line, you have to be physical, you have to make sure that the contact area is clean. We also have a good referee for this who handles the contact zone well, so it should be a good fight and a fast fight.
"Wales have a big pack. From a scrum perspective, we know (Tomas) Francis well because he played in the Premiership and there are a lot of guys here who know him well. I think we are well prepared in this part. We just have to make sure we show a clean picture, do our job well, and control what we can control. As always, we want to have a lively physical competition on the set piece. Potentially, this is a deciding factor in how the game plays out.
Saturday is an essential fixture if England are to retain any hope of reclaiming the Six Nations title after Wales took over as champions last year. "If we want to have a chance to win the league, we have to win all three games and it starts tomorrow, so it's an important game. We know we have to win. To win, we're going to have to play very well. is an important match if we are to have a chance of being Six Nations champions."
comments
Join RugbyPass+ now and join the conversation with brand new reviews!
Join now