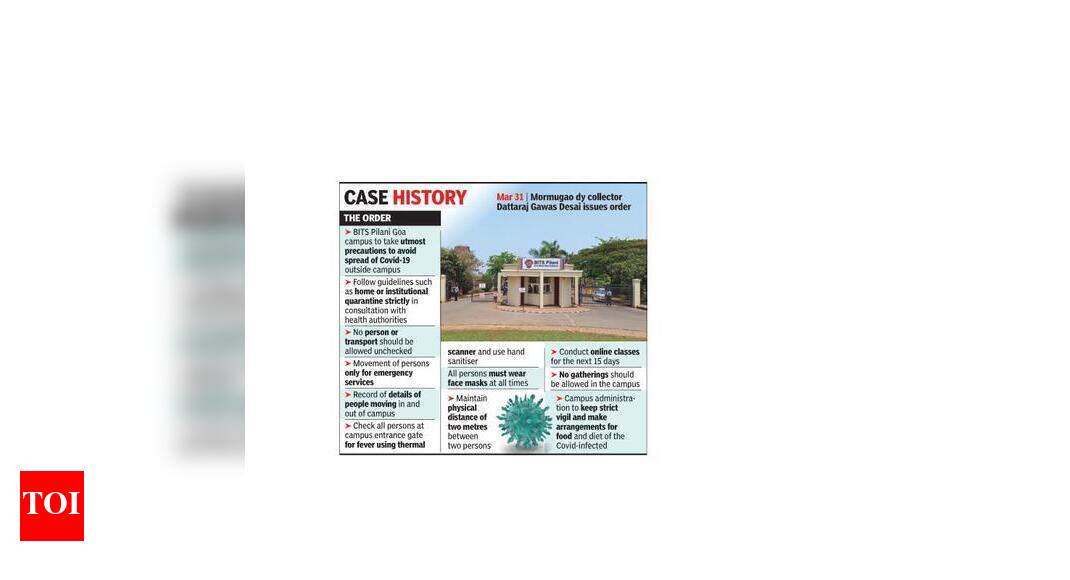 Contact tracing at BITS Goa campus, 6 more Covid positives | Goa News
Panaji/Vasco: Contact tracing was carried out at KK Birla BITS Pilani Goa campus in Zuarinagar on Friday, after 24 students tested positive for Covid-19 a day earlier. As of Friday evening, the number of students infected with Covid was 30 and 100 others were tested by teams from the Cortalim primary health center, based on the contact tracing carried out.
Officials said most of the students who tested positive are asymptomatic and the situation on campus is under control. Students on campus reside in single-capacity rooms and so it was easier to self-isolate positive students, they said.
"There are currently over 2,900 students on campus, in addition to approximately 200 faculty and staff families. Compared to this, the number of positive students is not concerning, especially since the students are asymptomatic and there are no serious cases," an official said.
The institute officials said that even before the deputy collector's order was issued, the institute had already decided that all the courses would be conducted in the online mode. It has also been decided that any type of gathering of people inside the campus will be prohibited.
"99% of students on campus are fully immunized and only a handful are immunized with a single dose, which will help. There are wardens, hostel superintendents, and hostel attendants, who monitor students who self-isolate. The institute has its own medical team, which provides support to students who have tested positive," an official said.
BITS Pilani Goa students had been asked to report to campus in mid-February as the Covid situation was improving across the country and the institute wanted to hold exams in March in offline mode. After the exams, the lessons took place in physical mode.
Mormugao's deputy collector issued an order on Thursday stating that RT-PCR tests should be performed on students showing symptoms of Covid-19. The Deputy Collector's Order said preventative measures should be implemented to stop the spread of infection to others.
BITS Pilani Goa PRO Arjun Harlarnkar said utmost care is being taken and student testing is underway.