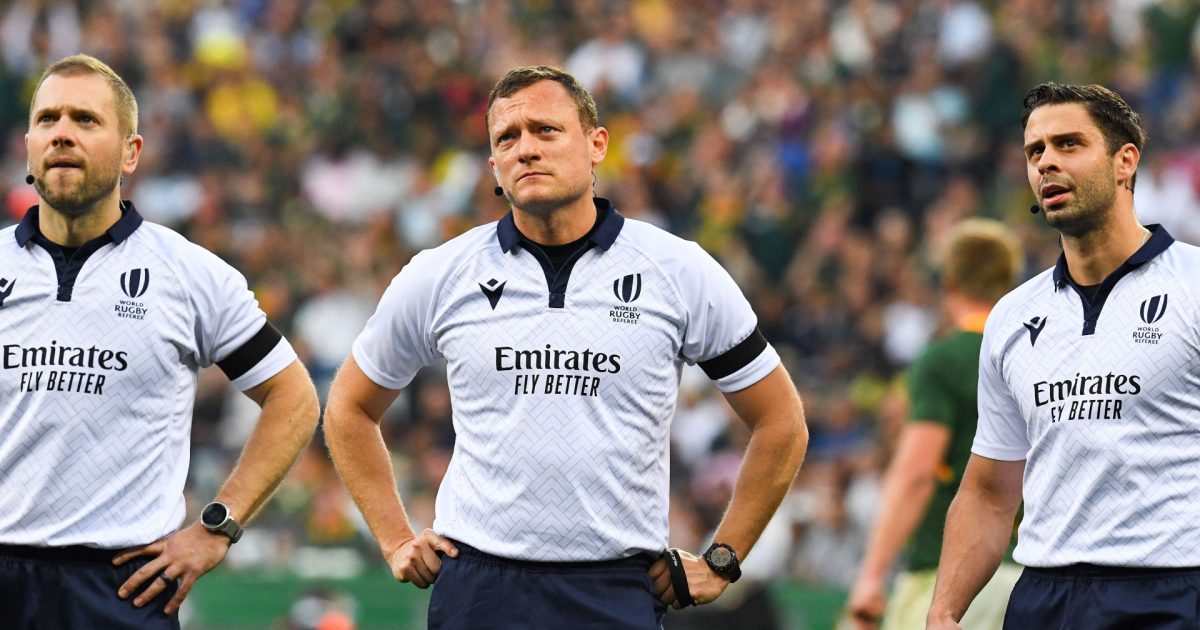 Again, harder to understand head contact calls
Based on this summer's appointments, it would appear Matthew Carley and Karl Dickson are now both sitting above Luke Pearce in World Rugby's thoughts and with Wayne Barnes almost certainly ahead of all, England should provide four referees for next year's World Cup.
Carley's last Tier 1 outing came in rainy Cape Town, where he put on another consistent display as the Springboks forwards battle their way to a decisive series win against valiant Wales.
The influence of Wayne Barnes
Every time I see Carley, I'm struck by the similarity between his refereeing style and that of his 99-time capped colleague who earlier in the day took charge of Ireland's historic victory in New Zealand.
Johnny Sexton and Andy Farrell after winning a historic series in New Zealand | Ireland post-match press conference
Perhaps the strongest characteristic of Barnes' officiating is his clarity of thought and the precision he brings to the decision-making process and this is also very evident in Carley's approach.
After making a saving tackle try on Damian Willemse, Dan Biggar was then penalized on the ground and his somewhat questioning look was welcomed: "He dropped the ball and got back on his feet, you have to let go. "
Later, when he penalized the hosts after trying to win the ball back on the ground following a breakdown, captain Siya Kolisi was told: "We had a ruck, the ball is still less than a yard away, so you can't dive on it."
Clear, unambiguous and 100% accurate.
| | | | | |
| --- | --- | --- | --- | --- |
| | Quarter 1 | Quarter 2 | Trimester 3 | Quarter 4 |
| Pens against SA | 0 | 4 | 4 | 2 |
| Think against Wales | 6 | 3 | 3 | 3 |
Penalty for Pieter-Steph Du Toit
It was good to see Carley penalize Pieter-Steph Du Toit just after the half-hour mark when he subtly hindered Alun Wyn Jones as the Wales substitute tried to block Jaden Hendrickse's kick from the base.
The home side's No.7 was placed in a guard position parallel to the back foot of the breakdown to allow his scrum-half to lift the ball and then kick directly behind him.
Because he was not in front of the ball, Du Toit was on the line, but when he moved his arms slightly to take the former Lions skipper away from his No. 9, he was guilty of a cynical obstruction that most referees missed as they followed. the flight of the kick.
Melee issues
When Carley reviews his performance, he is likely to spend the most time on the scrum where he has failed to find a solution to the issues he is facing.
It seemed from the start that Wales were struggling to control the power of the home side's set pieces and as a result the visitors sent three penalties from scrimmage in the first quarter, followed by a fourth towards the half hour before a fifth is awarded in the second. half against their replacement lead rowers.
There were also two penalties awarded against South Africa – both on the Wales wire – meaning only the game's final scrum produced a clean possession.
Along with a 5-2 penalty tally, four of the eight scrums required a reset.
Wet conditions underfoot undoubtedly played a part, but on those occasions when Carley criticized the visitors' body position and issued penalties, he effectively ruled out accidental slippage as a factor.
Because both Wales stalwarts have been penalized twice, it has become difficult to rule out someone for a yellow card for a persistent offence. However, given that clear patterns were present at the set piece, for me the team warning that finally arrived must have come earlier – probably after Wales were penalized in the first three mixed.
The riddle of head contact
According to my comments on Barnes' decision not to card Irishman Andrew Porter, the decision-making process that match officials are required to work with since the adoption of head contact protocols that remove the issue of intention is extremely difficult.
Deciding how much force is present and what attenuation may exist is much trickier than determining whether a defender consciously did something that caused a head injury to the ball carrier and so inconsistency is commonplace.
There were two other cases to be thrown into the debate during this contest.
First, when Makazole Mapimpi made contact with Nick Tompkins as the Wales cross was off balance, Carley took minimal time to decide his starting point was a yellow card, but the fact that Wales Wales No. 12 was already going to the ground would allow him to mitigate until a penalty.
It seemed like a common sense call that was hard to argue with – but as Schalk Britz observed in the commentary, we've all seen this type of incident handled very differently.
Then, when a replay showed Owen Watkin's right tackle causing a head-on collision with Siya Kolisi seemingly exactly of the type that Porter and Angus Ta'ava recently received cards for, there was no intervention. of the TMO. In the commentary, Jamie Roberts said "Owen Watkin is in trouble here" but nothing followed.
How rugby squares the circle between litigants suing the sport following the tragic injuries suffered by the likes of Steve Thompson and the need to consider the type of accidental collisions that characterize a high-speed contact sport is a pressing question. . It's been instructive this week to hear high-profile figures including Eddie Jones believe the current approach isn't working – but where we go next is anybody's guess.
comments
Sign up for free and let us know what you really think!
Join for free